Pardew confirms Palace bid for Benteke accepted by Liverpool
Benteke set to depart Anfield for an initial £27m – 12 months after his £32.5m arrival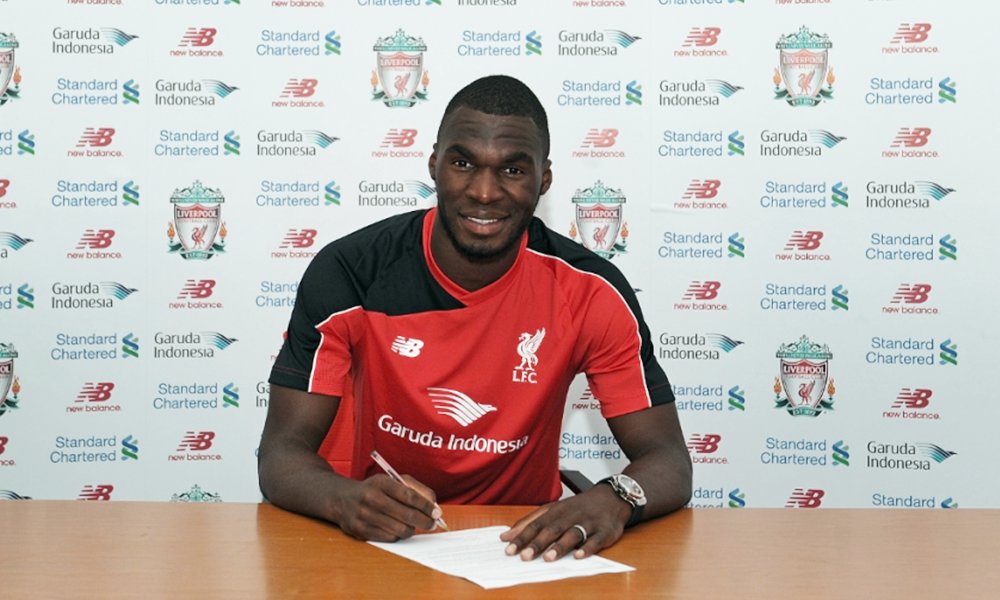 Liverpool look set to finally offload unwanted striker Christian Benteke after Crystal Palace manager Alan Pardew confirmed that Liverpool had accepted their bid for the player.
Pardew told media at his weekly press conference that the two clubs had agreed terms of their deal and all it was waiting on now was for the player to pass his medical and agree his own deal with his potential new club.
"It's still subject to a medical and personal terms," Pardew said, "but in terms of an agreement with Liverpool finally we seem to have got there."
The fee is a reported £27m – potentially rising to £30m – and comes after Everton paid Palace £25m for Yannick Bolasie. Mile Jedinak has also just left the London club, in his case for £4m, and Pardew is cautiously billing Benteke as the "iconic" player to replace his departing duo. The former Newcastle manager also claims he has had his eye on the Belgian for quite some time, suggesting his former club blocked his attempts:
"I don't want to talk too much about it because it's still not complete," he said, "but Yannick Bolasie and Mile Jedinak have left this week and I think it's important to replace iconic players with iconic players.
"That's something that didn't always happen at Newcastle, so I'm pleased the board have been brave with this move. I thank them that we got it this far, although it's not complete.
"Benteke is someone I know very well as I wanted to take him to Newcastle. It just didn't work out for him at Liverpool."
Brendan Rodgers signed the forward from Aston Villa a year ago for what was the second-highest fee Liverpool had ever paid for a player, the Midlands club receiving £32.5m for a forward who had certainly shown he knew where the goal was.
Sadly for the Reds – and the soon to depart Rodgers – he showed few signs of knowing where it was when wearing a Liverpool shirt and eventually found himself so far out of the pecking order that he was even overlooked for selection during Liverpool's pre-season tour.
Benteke scored 10 goals for Liverpool, nine of them in the league and one in Europe. That European strike was his winner against Bordeaux in the Europa League group stages, the goal that got the Reds into the knockout phase on the journey that would lead to the final in Basel.
By the time that final was played Benteke had dropped way down the pecking order. With Liverpool's league season all but abandoned Jurgen Klopp had already been resting his first-choice players as much as possible and in the last league game of the season, a few days before the final, Benteke made his last start for the club. Adam Bogdan was in goal that day, as if to underline just how little the game meant to Klopp.
For the final itself Benteke was on the bench and made what looks to be his final appearance in the Red shirt, for the last seven minutes of the game with Liverpool trailing 3-1. Divock Origi and Joe Allen came on before Benteke, who had the chance to make a difference in the game that might not rekindle his Reds career but could have put him in the LFC history books or at least get him firmly in the shop window.
It was clearly too late, not just in terms of the time left in the match but also in terms of his ill-fated move to Anfield. The BBC minute-by-minute review of the match only mentions him as coming on as sub and committing two fouls.
Brendan Rodgers had handed Benteke six starts from six at the start of the campaign but a hamstring injury in the home game to Norwich at the end of September saw him substituted at half time. Inside the ground fans wondered if the change had been down to injury, poor performance, or just plain tactics. The Belgian forward had started alongside the returning Daniel Sturridge and the partnership was quite clearly not working.
His replacement for the second-half was Danny Ings, also signed that summer but for a fraction of the price, and his impact was immediate, opening the scoring within a few minutes of his introduction. Ings might well have gone on to keep Benteke out of the side for the long term but a little over a fortnight later he suffered a serious knee injury that kept him out until the last day of the season.
Ings's last game before injury was in the derby at Goodison, the match that also turned out to be the last of the Brendan Rodgers era. That change of manager as good as ended Benteke's Liverpool career, the Belgian striker clearly not suited to Klopp's style of play.
Not that Klopp didn't try to make it work. Benteke played 42 times in all in his first – and almost certainly only – season at the club, 36 of those game were with the German manager in charge. However Klopp only handed him 14 starts, despite at times having no other recognised strikers fit and available, Benteke asked to make an impact from the bench on 22 occasions.
He did that the first time Klopp played him – coming on at half-time for Divock Origi at home to Southampton and giving Liverpool the lead midway through the half. Sadio Mane hit the equaliser that day, perhaps making more of an impression on Liverpool new boss than Benteke did.
Before Klopp's arrival Benteke had managed two goals in those six appearances, one a hotly-disputed goal against Bournemouth and the other a consolation in Liverpool's embarrasing 3-1 defeat at Old Trafford. Six of Benteke's eight goals for Jurgen Klopp were scored from the bench.
That first goal for Benteke, despite the controversy surrounding it, actually made it 12 goals in his last 13 Premier League appearances, underlining why Brendan Rodgers had persuaded the board to shell out such a fee for his services, but as so often happens in football, what works at one club doesn't work at all at another.
Pardew feels Palace are the kind of club where what Benteke has to offer will work perfectly: "For us, we need to get him back to doing what he does best. His style of play, the way he feeds off crosses…
"We're the top crossing team in the Premier League bar one, I think, so he'll enjoy that with the wide players we have. But he's not our player yet."