Liverpool turn down £25m Sterling from Man City for Raheem
Manchester City made an unsuccessful offer for Liverpool FC's unsettled forward Raheem Sterling this week, an offer way below the Reds valuation. Sterling reportedly wants to move to a club where he thinks he can win trophies.
NEWS broke on Thursday night that 20-year-old Raheem Sterling had been the subject of a £25m transfer bid from Manchester City earlier in the week. The Liverpool frontman, currently on duty with England, has made it clear he doesn't want to stay at Anfield but the offer from City won't come close to tempting Liverpool to part with the youngster.
The offer, which would be worth up to a total of £30m including add-ons, falls some way short of Liverpool's asking price, believed to be in the region of £50m.
The Reds would be loathe to sell to Premier League rivals – bearing in mind their response to an Arsenal bid for Luis Suarez two years ago – but Sterling is not Luis Suarez, not even close, and given the negative circumstances created by his agent Aidy Ward the club are not completely closed to the idea.
Unfortunately for Sterling and his representative, who stands to receive a substantial fee should a transfer take place, Manchester City may not be willing to go much higher with their offer and certainly not to the kind of level Liverpool are expecting. City aside, few clubs are in a position to even consider making that kind of bid and it may well be that Sterling is priced out of a move, despite reported interest from City's fellow top four sides Chelsea, Arsenal and Manchester United.
Given Sterling's form at the tail end of the season with the off-field distractions no doubt playing a part in the slump, there may well be concerns for prospective buyers that he won't be able to live up to the pressure of playing with a massive price tag around his neck.
Sterling wants to move to a club that can help him win things and although there is no guarantee Manchester City are a club to do that it certainly seems more likely for silverware to head to the Etihad than to Anfield, unless the changes to the Liverpool backroom staff bring unexpectedly big improvements. Whether Sterling is making a bid for trophies next season at Anfield or elsewhere remains to be seen.
Manchester City chairman Khaldoon Al Mubarak, who said the club's season was "disappointing", claimed earlier this week that bringing players in shouldn't be as expensive as it was when they were first taken over by Eithad.
"We were at a point of having to pay big premiums in order to attract the type of players we wanted to attract, given that we weren't in Europe," Mubarak said.
"Today I think we're definitely in a different competitive position. We're a club players want to come to play for, we're an institution today. We can compete head to head with all the top clubs."
Enticing the players themselves is one aspect to football transfers, but the deal has to be good for the selling club too and £25m+ add-ons isn't as attractive to Liverpool as City had hoped.
Manager Brendan Rodgers left Sterling out of the last game of the season, the 6-1 defeat to Stoke, leaving him on the bench even though Liverpool had a five goal deficit to make up by half-time. From the outside it certainly looks like the relationship between player and manager is damaged and no doubt with the agent's prompting other clubs will be aware of how that might just play into their hands where the fee is concerned.
Sterling was adamant that any move from Anfield would be about trophies not money, and although City also ended last season empty handed they were in the chase for the league for most of the season.
With Liverpool using words like "par" as if to justify their poor sixth-place finish, ending without a trophy was seen as far less than acceptable to City's chairman.
"It was a disappointing season as far as I am concerned," he said.
"Disappointing for everyone involved with the club – Sheikh Mansour, myself, the board, the management team, Manuel, the players and of course, above all, the fans."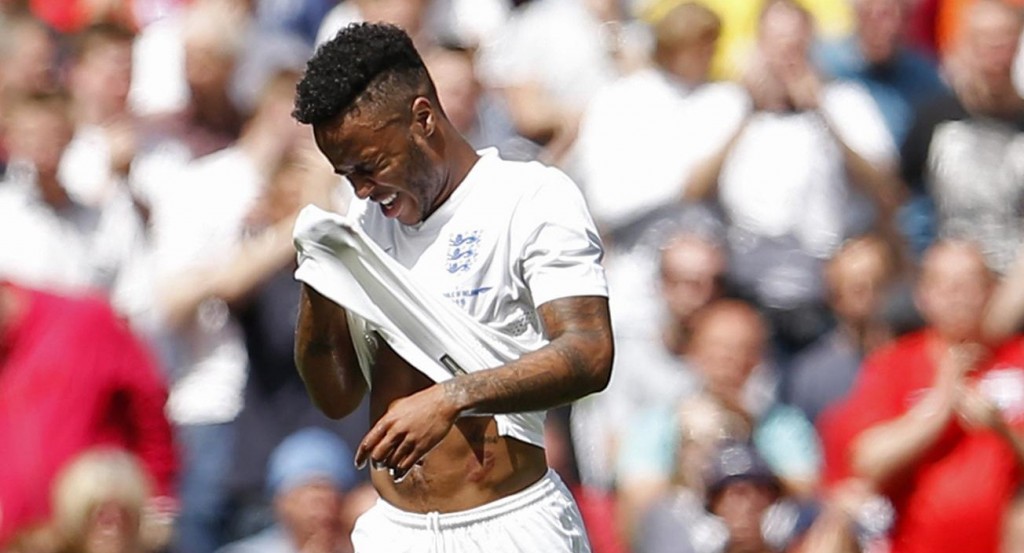 There hasn't been a single word said in public from Liverpool's owners about the season just gone, the club instead relying on leaked and briefed snippets of information to keep fans informed about what is happening to their club.
We know the manager's No.2 and No.3 have been sacked, but we don't know why, we don't know whose decision it was.
We know the club fell from second to sixth after spending £120m, we knew that something needed to be done – but wasn't – to fill the hole Luis Suarez left behind, but we don't know if the owners have done anything to address the problems that left the club so short of firepower.
Fans are unhappy – 89% voted in a poll on this site to say the manager should leave – but the club seem happy to leave fans to stew.
City, meanwhile, have a chairman willing not only to admit to the disappointment of last season but also to send a message out that his club is determined to fix the problems that caused it.
"You will see some changes," Mubarak said. "Some players who have served us well, maybe it is time for them to move on to the next challenges, while you will see us in the market bringing high-quality individuals to fit in with what we are aspiring to coming in this summer.
"I can assure you this squad will be stronger and the team will be more competitive. I am both confident and excited about what is coming next year.
"I want the disappointment of last year behind me, behind us all. We have all turned the page and the energy right now is positive energy towards getting back on track and winning back that Premier League and getting a better performance in the Champions League. That is absolutely what is driving us right now."
FSG and their Liverpool board remain silent.
UPDATE: One report this morning states City "will go back to Liverpool with a second, increased bid for Raheem Sterling closer to their £50m-plus asking price."
Note the use of the word "closer", rather than "close" – even an extra pound would be closer, but not necessarily close enough. Ask Arsenal.
It seems unlikely that City will make a bid close to Liverpool's reported asking price (which in some reports is worded as "at least" £50m) and any renewed bid may just involve a tweaking of the guaranteed amount payable and some different and distant add-ons.
Liverpool's real asking price, however, is unlikely to be as high as £50m, given the size of contract offer they made to Sterling the last time they held talks. That offer was believed to be £90k per week, much less than half the £200k per week deal they agreed with Luis Suarez to keep him at the club, although they ultimately only paid it for an extra six months before selling him to Barca for a fee – according to the Catalan club – of £65m.