Lucas launches latest LFC Foundation programme
LUCAS LEIVA returns to Brendan Rodgers's Liverpool squad this weekend but as these latest pictures show he's not just been working on his rehabilitation from injury during his latest spell out injured.
The Brazilian midfielder, who was also sent out to do some scouting for Rodgers as he recovered from the setback, has used the time to help out with the club's official charity, the Liverpool FC Foundation, and launched a second programme to provide sporting opportunities for children with severe disabilities in the Wirral.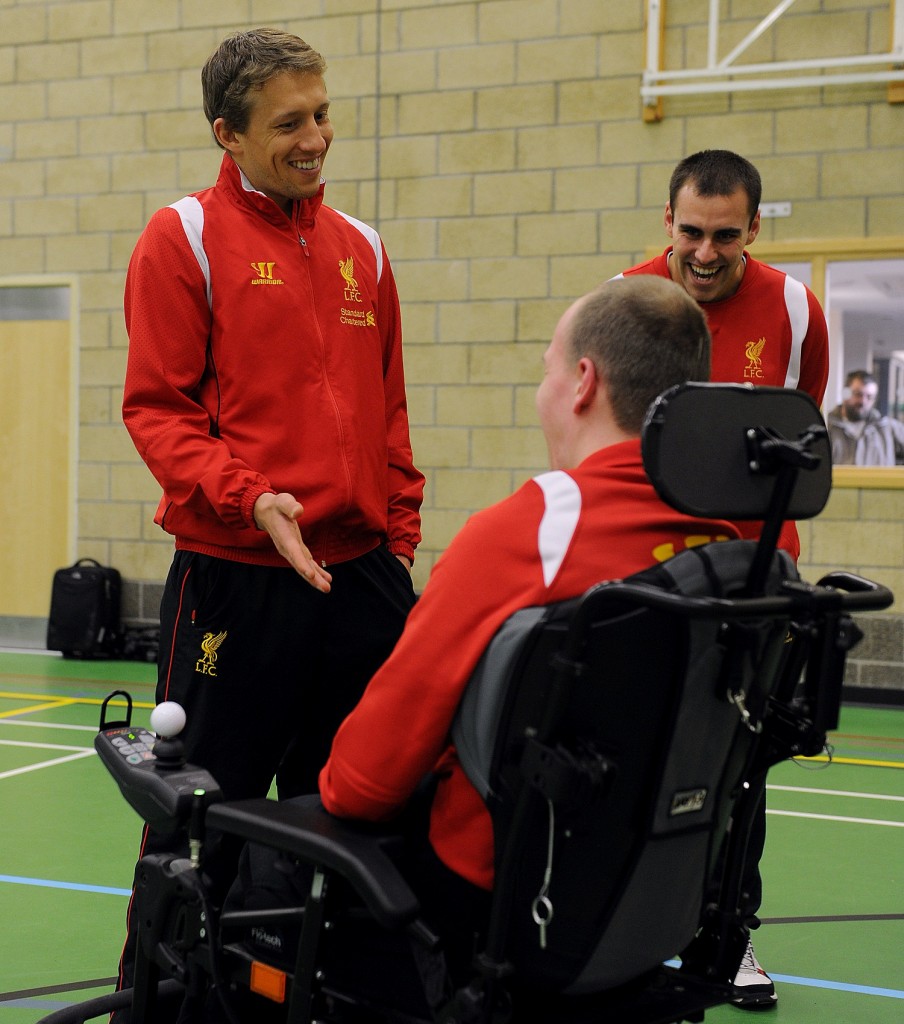 The programme, 'Football 4 All', was launched as a follow-up to the successful first programme, launched in Aigburth, which offers free coaching to over 70 children every week. The new programme also provides free coaching for children with complex needs who previously wouldn't have engaged in sport.
Speaking after the launch, Lucas said: "Today has been great. Seeing the smiles on the kids' faces has been fantastic and it's been a real opportunity to highlight the great work being done by the Liverpool FC Foundation. It's very important for players to come and give something back to the community."
The new programme is based at Woodchurch High School and provides sporting opportunities for 35 children aged between eight and 16 years old. The funding comes from the Premier League Community Fund, the People's Postcode Trust (LFC's extra shirt sponsor for Europa League games) and Field of Dreams.
Gary Adlen, Liverpool FC Foundation Director, said: "Our Foundation improves people's lives by providing a range of football related programmes and initiatives that will inspire positive change, both locally and internationally. We're extremely delighted to launch our second football disability initiative as part of the Football 4 All programme in the Wirral.
"With these programmes, the majority of participants have never been involved in any sport before.  The sessions are about giving young people a chance to get involved, socialise and enjoy their sport. Giving children this opportunity is something that we are extremely proud of."
Lucas has missed most of the season due to a thigh injury, an injury that was a huge setback having missed the second half of last season as a result of a knee injury. The midfielder acknowledged the part the club's supporters have played in his recovery: "Ever since my first injury, the fans have been very important to me. When you don't play, you think that people might forget about you but I think it has been completely the opposite.
"People send me nice messages and they say that they really miss me, so this has given me the confidence to come back."
His team mates have also played a part: "The players, on a daily basis, have really supported me. I remember when Luis scored and he had a message for me on his shirt. These are the small things that really mean a lot and they keep you going. Now it's the time for me to repay that and help them."
The manager also got a mention from Lucas: "Brendan Rodgers has been very good to me since my first day. When he arrived I was just recovering from the knee injury, so he gave me a lot of confidence and was always very clear about his plans for me. He has tried to keep me very calm and not tried to rush me, in terms of my rehabilitation."
Whether Lucas makes the starting line-up against tomorrow's visitors Southampton or not, the fact he's back in the squad and close to his full comeback will come as a huge lift to those Liverpool supporters, the player's team mates and his manager.  The Reds' defeat on Wednesday saw their unbeaten run come to an end but the return of the Brazilian will hopefully see Joe Allen played in a role that he is more suited to, the role he was signed for, and in turn should see other midfielders playing roles they too are more suited to.
The danger of course is to expect Lucas to be the answer to all of Liverpool's problems and questions still need to be answered about just how much funding Rodgers will be given to strengthen what is a very thin squad in terms of numbers. Those questions will be answered in January, but it'll be the end of January before fans know if the answers are the ones they want to hear.
It's not all about funding when it comes to finding players and the new scouting appointments are now in a position to act and to find players that suit Rodgers's style and fit his plans as well as possible based on whatever kind of cash going to be released from the numerous recent lucrative sponsorship and partnership deals signed by the club.
If the players to be signed are going to take time to not only settle but to be accepted then it's important that the club make it clear that the short term plan isn't necessarily about getting back into Champions League places. And if the plan is to get back into that top four then the transfer policy needs to be one that finds players for Rodgers to use right away.
In the meantime Lucas is back in the squad and that's something that fans can only be happy about.
Pics courtesy of Liverpool Football Club.