Liverpool 2 Manchester City 2
"THE best team didn't win," said Brendan Rodgers after the match. It's the kind of talk that was heard throughout last season when discussing league game after league game where Liverpool had dropped points, but this time it had a bit of a different ring to it.
Far too often last season words like "unlucky" would be used in discussions of games featuring more dropped points; time and time again woodwork, referees and amazing feats of goalkeeping would be said to have stood in the way of three points for the Reds. The longer the season went on the more it felt inevitable that no matter how good the performance was the result wouldn't be good enough. In the end it was almost like players were going into league games assuming they'd already lost, that no matter how well they played the game would be decided on luck and that until it was time for Liverpool's luck to turn it wasn't worth trying too hard. Whatever it was, their minds weren't right, their focus wasn't there, they didn't look like a team determined to win every game.
Liverpool lost Lucas Leiva, the man whose absence played a huge part in the poor second half of last season, within five minutes of kick-off. Liverpool didn't spend the rest of the game with their heads down cursing the bad luck of losing such an important player, they got on with the task at hand as if his absence had been part of the plan in the first place. It wasn't bad luck, it was just one of those setbacks that happen in football and they just got on with it.
Rodgers said: "I thought we were outstanding, playing against a top side, once we managed that first 10 minutes, tactically the players were terrific. The players' attitude and application has been great. We have shown great resilience. We had a one-off day last week."
Luck, if we have to talk about it, was on Liverpool's side within the first twenty minutes when Tevez, somehow, curled the ball from the tightest of angles against the inside of the post – and it bounced back out, with no blue shirts near it to bang it home. That happened a minute after Borini had shot narrowly wide under pressure with what was the first real chance of the game. Forget about luck; get on with the job at hand.
Both sides had chances; both sides failed to put them away or were foiled trying. Borini had a shot blocked approaching the half-way mark, Gerrard took the corner and rolled it across the floor to Suárez who missed it. Possession lost, Liverpool win it back, another chance comes up, this time for Suárez, Hart saves. Manchester City break, Balotelli shoots over. Sterling chips one into the box, it doesn't quite reach Borini. Gerrard sends a great ball into the box; Kompany slices his attempted clearance just over the bar. Another Liverpool corner.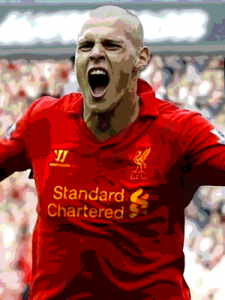 This corner was better than the one before it, Gerrard getting the ball into the perfect place for Martin Skrtel to run onto it and head it into the back of the net with Joe Hart helpless to stop it. City's defenders will kick themselves for letting him get into but credit should go to the Liverpool defender for the way he got and took the chance, as well as the captain for the delivery.
Despite taking the lead Liverpool didn't try to hold on to what they had, they carried on as before, looking for the ball, keeping the ball, trying to score. The ball goes backwards but it goes backwards so it can go forwards. Liverpool aren't trying to keep possession for the sake of it, Liverpool are trying to keep possession so they can use it to create chances. At times City looked rattled, especially when Sterling showed them his stuff. But it wasn't just Sterling.
It was 51 minutes before Joe Allen gave the ball away, every one of his passes before that reaching another Red shirt. A couple of minutes later another of his passes made it to a Liverpool player – but it was a good job, Pepe Reina, the recipient, is good with his feet. Those two incidents apart it's difficult to think of anything Joe Allen did wrong, his performance was one of the reasons Lucas was hardly missed.
City were getting some of the ball but doing very little with it, Skrtel's diving header to clear a corner one of the few times there was any kind of threat to Reina's goal in the first hour. It was on the hour mark that Jack Rodwell was brought on for his first game on Merseyside since leaving Everton for Manchester. Balotelli hit the post but the referee had already blown for offside against James Milner.
Martin Kelly ghosted past a couple of defenders, not for the first time in the match showing he has got an attacking side to his game, but the hard work came to nothing and the move ended with Gerrard getting in amongst the photographers at the Anfield Road end.
Kelly's defensive abilities were tested a couple of minutes later. Mancini brought Dzeko on for Balotelli but it was Carlos Tevez who created City's opening goal, his cross  getting the faintest of touches from Skrtel, leaving Reina unable to connect with it and catching Kelly off guard. Yaya Toure pounced as Kelly, clearly not expecting the ball to reach him when Skrtel and Reina looked positioned to deal with it, was unable to control the ball. City were back on terms – but it was more through Liverpool's errors than their own efforts.
Rodgers took Kelly off straight after the goal, allowing Johnson to make back to his favoured right and Enrique to make his first league appearance of the season having suffered a knock just before the season opener last weekend. Some might feel Kelly went off because of the mistake but he'd played very well prior to that and it's more likely he went off because Rodgers felt he could get more from having Johnson back on his own side of the pitch – after all, Sterling was doing a pretty good job on his own of terrorising City on the left. Enrique's arrival also helped Sterling manage the defensive workload on that side.
Rodwell's first contribution was to give away a free kick for handball, the stoppage for which allowed Rodgers to bring Enrique on. Gerrard blasted the ball goalwards and Rodwell threw himself at it to block it. It hit his leg and bounced up to his arms, the ref not hesitating to blow for a free kick. By the time the substitution had been made Suárez and Gerrard had been given time to cook up a plan for how to make use of the free kick.
Suárez and Gerrard both stood over the ball but Gerrard looked most likely to take it; he usually does. But not this time. This time it was Suárez's turn to have a go and what a go it was. His shooting in open play is still not what it could do with being but from the free kick his shot couldn't have been any better. From around 25 yards out the Uruguayan curled it round the wall and into the bottom right-hand corner of the red Anfield Road net. Hart was powerless to stop it, he couldn't even reach it, Liverpool were back in front and deservedly so.
Even now Liverpool weren't willing to sit on their lead and five minutes later Johnson seemed to have been brought down in the box. Penalty appeals were ignored by the referee, who kept his hands behind his back, and replays showed it would have been harsh had he awarded one. Johnson wasn't one of those appealing for it.
As much as Liverpool continued to attack they continued to defend too, as a team, all part of those Rodgers theories about the importance of possession. At one point the referee had to call Kompany and Suárez over to calm the pair down, Kompany perhaps as frustrated at Suárez's efforts to win the ball back as Suárez was at the defender's efforts in stopping him scoring.
Moments later Suárez's chasing down of a backpass saw Hart give the ball away; despite being behind City were rarely making any meaningful visits into Liverpool's half, mainly because of Liverpool's determination not to let them.
Mancini made his third and final change with fifteen minutes to go, hoping David Silva could make a difference. Dzeko thought he'd try and make a difference on his own but his shot ended up well over Reina's bar and landed in the middle of a laughing Kop. City did not look like getting back into this one.
They may not have got back into it either, but Martin Skrtel was about to make a mistake. Not under a particularly great amount of pressure and near enough to the touchline to at least play it safe he chose to pass the ball back to Pepe Reina. The problem was he didn't bother looking up before doing so and didn't see Tevez waiting to pounce. Manchester City had another equaliser and it was entirely avoidable.
Not that Rodgers was ready to have a go at Skrtel for that one lapse: "Martin Skrtel was immense. I commend the courage. The easy thing is to smash it up the pitch. For us to dominate games, we need players to have the courage to have the ball."
Rodgers wasn't able to play his first-choice centre-back pairing because of Daniel Agger's suspension – but it doesn't look like Jamie Carragher can count on being first reserve should Agger or Skrtel suffer injury, suspension or a drop in form. For this match Rodgers brought Sebastian Coates in, leaving Jamie Carragher on the bench with Stewart Downing and Jordan Henderson. Charlie Adam didn't even make the bench.
Soon after that second equaliser Shelvey almost got Liverpool back in front, his shot going a couple of inches over the bar. Then Dzeko had a shot from distance for City – it went close but not close enough and probably wouldn't have beaten Reina anyway.  Rodgers sent Carroll on for Borini, then there was another chance for Dzeko, this time the City player firing over from short range after being played in by Kolorov.
With two minutes left on the clock Liverpool had a couple of corners and a couple of chances, the second of which fell to Andy Carroll whose header wasn't quite strong enough to stop Kompany from getting it away. There was still time for a couple of Manchester City corners and a booking for Suárez, presumably for complaining about one of the referee's decisions, but no more goals and it ended 2-2.
Liverpool deserved to win but weren't unlucky. Both goals they conceded could have been avoided and those involved will know that. The final score was one that most Reds fans would have been happy with before kick-off, the fact many were left feeling it was a disappointing score is a reflection of how well Liverpool performed and, perhaps, how much they entertained.
Nuri Sahin watched the game from the stands – the fixture came too soon for him to be eligible following his arrival on loan from Real Madrid – and Rodgers admitted to the media that he wants to make more signings before the end of the transfer window, mainly, he says, to add depth to the squad. "We just need help," he said. "We lost players in the summer and we need to bring in players to replace those."
It's still too early to say how Borini will turn out but Joe Allen is already looking like a steal. Rodgers said as much after the match: "The Liverpool supporters will enjoy watching this kid play football. We paid £15 million but I said when he came in that price will double. Some people probably laughed."
Maybe Liverpool's owners laughed – maybe not – but they need to look at the finances and find a bit more of that money pumped in by Standard Chartered, Warrior and the long list of other official LFC partners to give Rodgers the depth he's talking about and, perhaps, a bit more quality. This game showed how good Liverpool might just be able to be, it would be a huge shame to say the least if a lack of financial support for the manager left supporters wondering, yet again, what might have been.
Liverpool: 25 Reina, 2 Johnson, 16 Coates, 34 Kelly(3 Jose Enrique, 66), 37 Skrtel 8 Gerrard, 21 Lucas(33 Shelvey, 5), 24 Allen, 31 Sterling, 7 Suarez, 29 Borini(9 Carroll, 83)
Unused subs: 1 Jones, 23 Carragher, 14 Henderson, 19 Downing
Manchester City: 1 Hart, 4 Kompany, 5 Zabaleta, 13 Kolarov, 28 K Toure, 7 Milner (21 Silva,76), 8 Nasri (17 Rodwell, 59), 34 De Jong, 42 Y Toure, 32 Tevez, 45 Balotelli (10 Dzeko, 62)
Unused subs: 30 Pantilimon, 6 Lescott, 15 Savic, 62 Razak
Referee: Andre Marriner
Attendance: 44,942