LFC former players set to honour more Liverpool greats
The 2016 5Times Liverpool Former Players Association Gala Awards Dinner takes place early next month in Liverpool city centre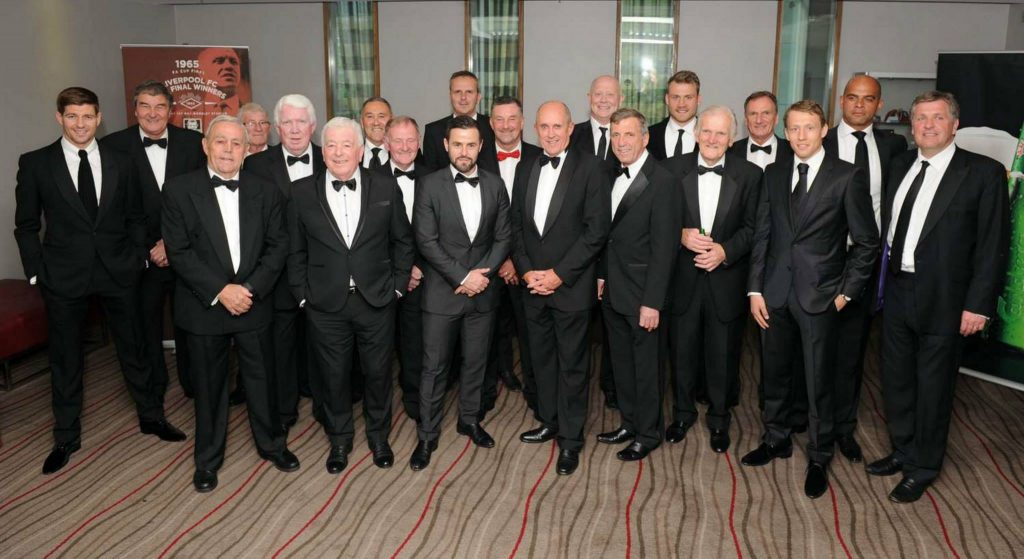 Reds legends past and present will be in attendance at the Hilton Hotel in Liverpool on May 9th as the 5Times Liverpool Former Players Association hold their annual Gala Dinner, raising funds for charity whilst paying tribute to some of LFC's most decorated and celebrated players.
Every year the event sees the club's former players select their Player of the Season as well as picking new entrants to be inducted into the Hall of Fame.
Much like the Association's annual Christmas dinner, the event is well supported by players and staff from the club. Brendan Rodgers attended the dinner when he was manager and handed out awards, whilst current boss Jürgen Klopp surprised the attendees at the Christmas event when he made an unannounced appearance – despite it falling on a day where he was busy not only with training sessions ahead of a game but also his press and media duties.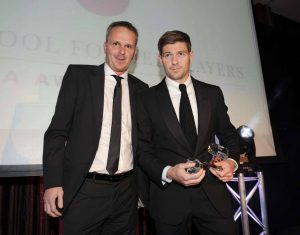 Last season's Awards Dinner was attended by members of the first team including Steven Gerrard, Lucas Leiva and Simon Mignolet, with Olympic medallist Beth Tweddle and comedian John Bishop amongst the guests on previous occasions. Fans are also invited to the event, which also raises funds for charity.
Gerrard's attendance in 2015 was one of his last public appearances whilst still officially a Liverpool player and the former players wanted to mark the end of his amazing career by presenting him with a special honour. Handed over by the chairman of the 5Times Liverpool Former Players Association, John Aldridge, the 'You'll Never Walk Alone Award' was in recognition of everything Gerrard did in that Red shirt over all those years. In many ways it served as a welcome gift to Steven as he joined the distinguished ranks of sportsmen who can proudly refer to themselves as former Liverpool players.
Similar thoughts were in the minds of the ex-players back in 2013 when another recent legend was about to bid farewell to the club he'd been at since childhood. Jamie Carragher was set to embark on what we now know turned out to be a very successful career working as an analyst for Sky Sports, but he must have felt quite reassured at the reception he got from the Legends he would soon be joining as a former player.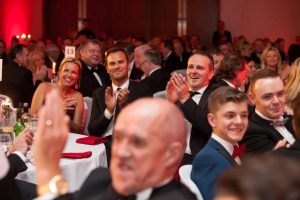 Carragher was inducted into the Liverpool FC Hall of Fame, picked for the honour by the ex-players, and went in as a representative for the decade starting in the year 2000.
This year will be the fourth in succession that the Legends pick out someone who made a difference in each decade from the sixties onwards.
The Hall of Fame entrants for the 1960s so far are Ron Yeats, Ian Callaghan and Ian St John, with Phil Thompson, Phil Neal and Chris Lawler honoured to represent the 1970s.
Ian Rush, John Barnes and Alan Kennedy represent the 1980s Liverpool era with Steve McManaman, Robbie Fowler and Jan Molby recognised for their efforts in the 1990s.
Completing the Hall of Fame are Jamie Carragher, as mentioned, along with fellow heroes of Istanbul Didi Hamann and Steven Gerrard.
The medal haul of all those legends is phenomenal.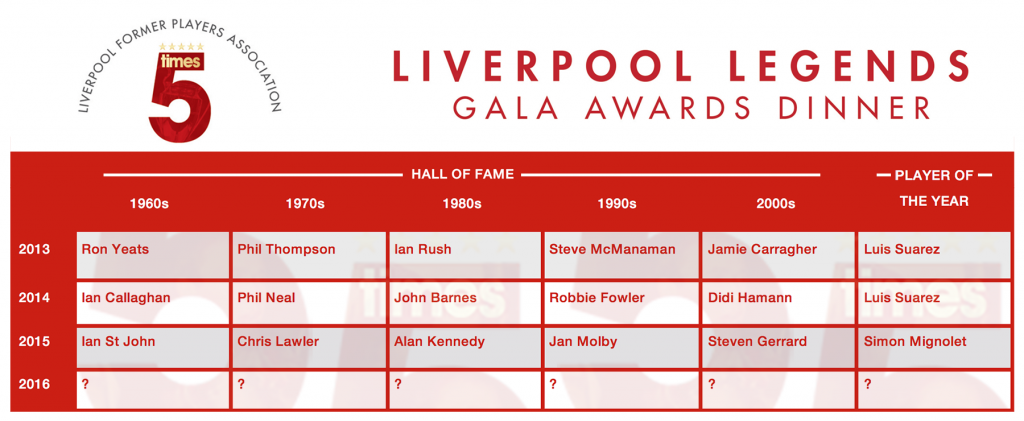 Next month's dinner will see the fourth set of entrants in the Hall of Fame but the former players are keeping their identities a very closely-guarded secret, even from those they have actually picked.
As Alan Kennedy said last year, after finding himself with a place for the 1980s, the honour was a huge surprise: "I'm on the committee!" he said. "They've gone behind my back – I was waiting for Alan Hansen to come in!"
The event helps 5Times in its quest to raise funds for charities close to the player's hearts and forms part of a number of initiatives involving the former players over the course of each year.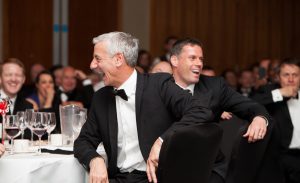 By holding events like the Gala Dinner and by taking former players all around the world the Former Players Association keeps the Legends in touch with the fans and helps numerous good causes.
5Times Liverpool Former Players Association have taken players as far away as Australia and the West Coast of the USA as well as embarking on regular trips all over the UK and Ireland. It's not just about formal dinners, the 5Times stage shows that have toured the world have all been priced at an affordable level meaning fans who lives miles away from Liverpool and who can otherwise only dream of meeting their heroes are given a real chance to get close to the Legends who made all those great stories happen.
All the 5Times events include auctions and raffles for special, rare and often unique prizes and help boost the funds raised for good causes.
When current boss Jürgen Klopp made that unexpected appearance at the last Christmas dinner he also gave the fundraising a massive boost. When he arrived he was asked to sign a Liverpool shirt which of course he gladly did. When this went up for auction he was taken aback at the fact it attracted a very generous bid of £1000.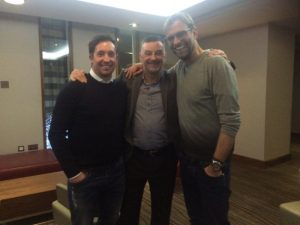 "Why don't I sign some more?!" he asked – and so another four shirts were quickly rounded up for the manager to sign – and every single one raised another four-figure sum.
This year's event is being held in honour of Liverpool's 'three lions', the trio that represented England in their victorious 1966 World Cup campaign 50 years ago – Roger Hunt, Ian Callaghan and the sadly recently departed Gerry Byrne.
When last year's 1960s entrant into the Hall of Fame, Ian St John, collected his honour he humbly pointed to the quality of the teammates he had back then, not only Hunt, Callaghan and Byrne but also the likes of Tommy Lawrence, Ron Yeats, Peter Thompson and Tommy Smith. It was a squad became the blueprint for Liverpool teams for decades to come: "It was a fantastic team which set out how Liverpool would be for the next 50 years," the Saint said.
"I was fortunate to play with some great lads," he added.
Some of those players from the 1960s were of course still around into the 1970s and Chris Lawler recalled the difference it made that everyone understood each other's way of playing: "We all knew each other's play," said Lawler last year. "I spent my wedding night with Tommy Smith, he kept me awake with his snoring!" he laughed.
The players also select a Player of the Season each year and no explanation is needed as to why the winner of the 2013 and 2014 awards was selected, just to mention his name will suffice – Luis Suarez.
Last season was a difficult campaign for Liverpool and the former players would have had a tough job selecting a player of the season for a campaign most fans wanted to forget. They did pick one, Simon Mignolet, and although that might have surprised a few people the Legends felt they had good reason to pick him based on his turnaround – from the first half of the season where he was eventually dropped after much criticism to a second half where he kept numerous clean sheets.
One Legend said afterwards: "As former players judging these awards through a player's eyes we appreciate how much of an achievement it is to go through some very tough times and to come back. Mignolet has been brilliant this second half of the season."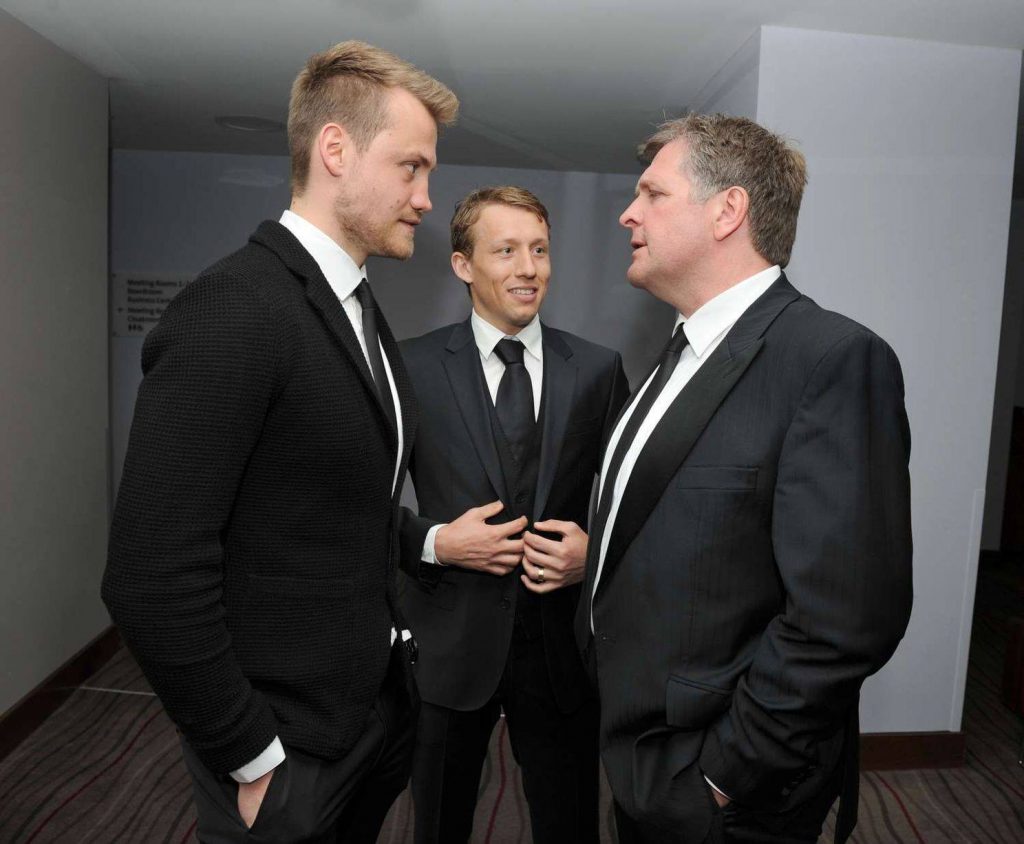 Like the new entrants into the Hall of Fame, the former players are keeping the identity of their Player of the Season close to their chests but as Liverpool settle into a new era under a new manager they will have no shortage of candidates. Candidates who one day might just find themselves being referred to as Legends just like their predecessors.
Join the former players and their surprise guests at this year's Gala Awards Dinner at the Hilton in Liverpool on May 9th. Tickets can be purchased through the 5Times Liverpool Former Players Association website at 5times.co.uk/dinner.