Pulis on "spin" and "facts"
Tony Pulis seems a touch unhappy at comments Jurgen Klopp made after the two sides – and to a certain extent the two managers – clashed on Sunday.
The two bosses didn't quite get on like a house on fire during the game and when it was over Klopp decided not to shake Pulis's hand.
Football seems more upset with non-handshakes than it is with tackles that risk causing serious injury to an opponent – regardless of whether they get the ball or not – but football these days seems to be followed by a lot of angry and grumpy people.
The reason most kids who are into football would rather have a kick around in the park than sit in and swat up for a maths test is because football is fun. Or at least it is until it gets into the hands of adults, usually.
In the hands of adults it's a way of making money and one way to make money is to survive in a certain division, or in a certain zone of that division, and rake in a share of the cash that comes in to a team regardless of entertainment value.
Klopp got annoyed on Sunday, before turning his annoyance into determination to get the crowd up for a thrilling finale which almost brought Liverpool three points. He was annoyed at the way West Brom play football, and the Anfield faithful can sympathise with him having had to put up with over the years from Pulis's Stoke sides.
Pulis is very good at what he does, something ex-Red John Aldridge described as 'anti-football' earlier this week, and seemed put out that Klopp criticised him for it.
Discussing Klopp's reaction on Sunday, Pulis said: "I think it was disappointing but he's got his opinions and he can say what he wants.
"We apologise we actually played three longer passes in 99 minutes than Liverpool did in that game.
"As a football club we apologise to Liverpool for playing three longer passes."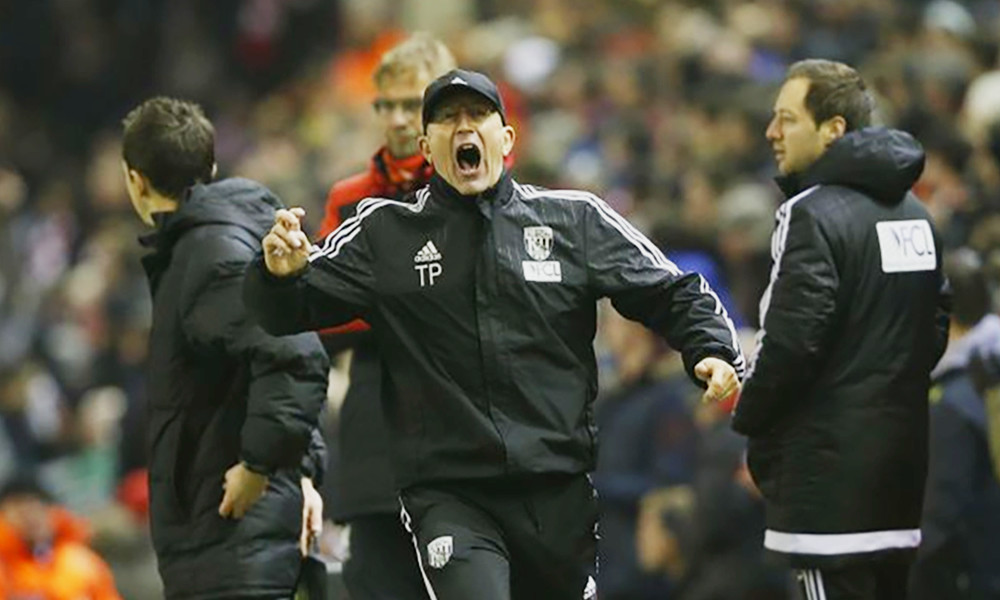 For people who live by stats it probably sounds very revealing, but for those who watch the game as well as pouring over the facts and figures not all long passes are what people tend to mean by 'the long ball'. Pulis, of course, knows this but feels the need to put a bit of spin on it in defence of his brand of survival soccer.
"Everything you hear and everything talked about today there's always a bit of spin on it," he admitted, before going on to essentially say that low budget means low quality football.
"If I had a team that was worth £200 million playing against a team that was worth less than £20 million and we never won that game I'd be doing my best to divert it away from the fact that I had 10 times more value on the pitch than my opposition number had and couldn't win the game," he said.
Funnily enough, if one of the teams in the top half of the table made enquiries to West Brom about, say, Rondon and Berehino this January, it's unlikely they'd get a figure back below £20m for the two of them, let alone the whole squad. But, as Pulis says, "there's always a bit of spin" in things these days.
"I'm just stating the facts. Forget all the spin, that's the facts," he claimed.
Different managers bring different kind of qualities to the job, there are managers good at managing the so-called 'big' clubs and dealing with their so-called 'superstars', managers good at getting out of relegation battles, or getting promoted, or treading water in the middle of the table to keep the coffers full for the owners.
Pulis is highly-rated by many in the game but has yet to have a chance to prove himself at a club with genuine ambition and so his standard brand of football is accepted. It must be wonderful having to sit and watch it every week.
Football doesn't dish points out for entertainment, it doesn't really share TV money out based on it either, other than a relatively small increase based on how many times a side actually gets shown on TV, so Pulis is well within his rights to play the way he does.
Stats on time-wasting might be interesting because that is something his players are always very well-drilled at, turning the retrieving of a ball into an art form only matched by the attention to detail they give to placing it down on the ground for the restart.
Pulis continued: "I don't know the fella, I don't want to say anything else. They were the facts."
The fact is that it must take an amazing amount of dedication and a serious lack of ambition to watch that kind of football week in and week out, not to mention to play that way. Some of the players will be happy to play that way but you can't help think that one or two wish they could just play football.
"We've got a big game Saturday," Pulis added, "A game that we think will be more difficult than the Liverpool game."
West Brom play Bournemouth on Saturday.