Liverpool FC launch New Balance 80s-inspired home kit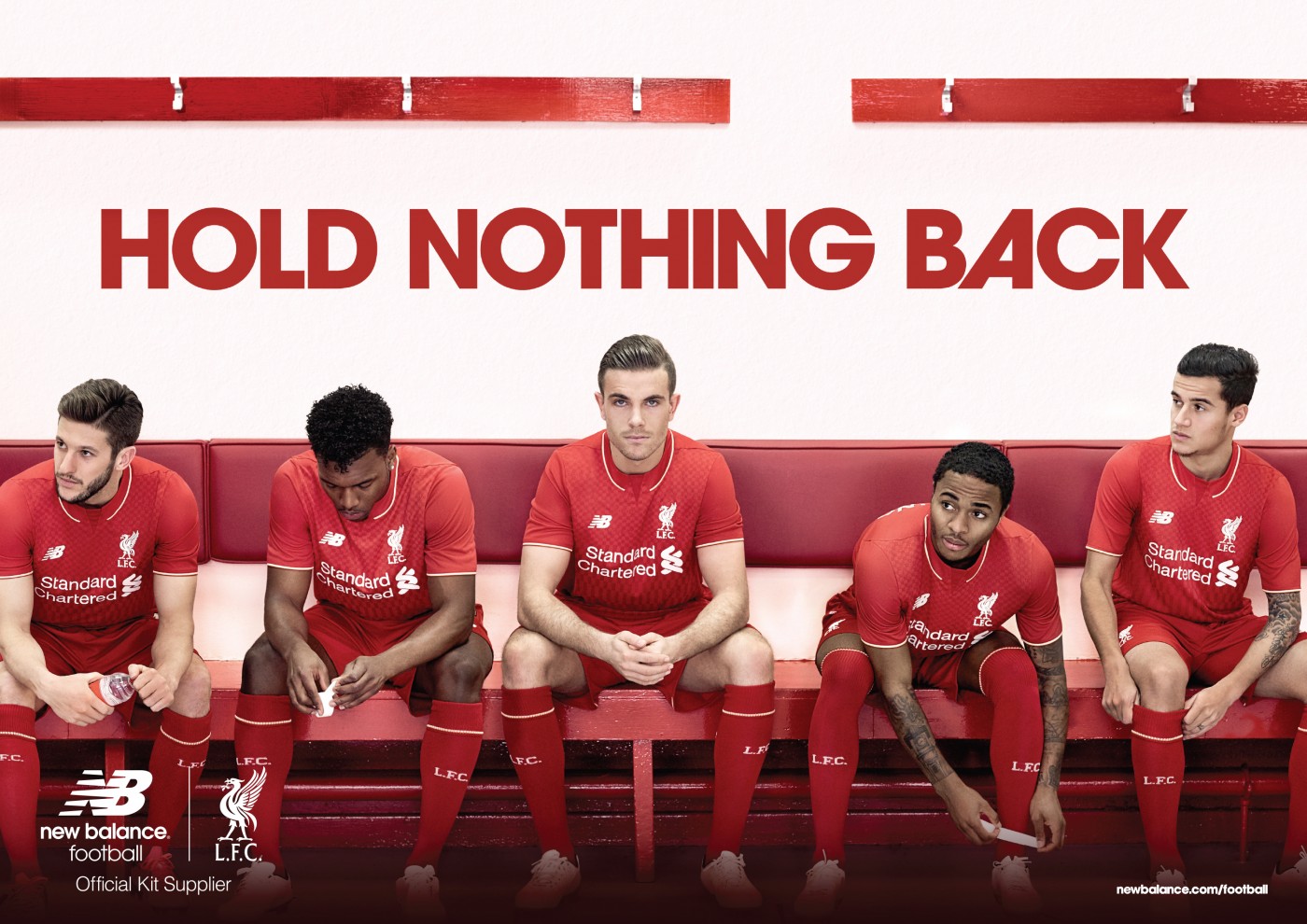 ANOTHER year, another new shirt – in fact there'll be three – as Liverpool launched the latest all red home kits.
New kits come out annually now, in home, away and what used to sometimes to be called 'European Away' flavours. With no guarantee of European football for Liverpool next season, chances are it'll just be a 'third kit' that get unveiled last.
For now though it was just the home kit, the first to be produced under the New Balance brand name. New Balance are the owners of the Warrior brand Liverpool have been wearing for the past few seasons, a name that looks like going back to use as a Hockey or Lacrosse brand only. The change suggests top brass at the US company needed to be convinced that soccer was as big a deal as they'd been told and having seen it is, perhaps realise just how much leverage they can get for their wider range of New Balance clothing.
You can imagine the kit designers looking disappointed on hearing the answer to their "does it have to be all red" question, a situation that if we're being honest doesn't leave them with a great deal of room to innovate and give us something fresh and exciting.
The marketing people want us to think it's exciting. They tell us:
"The core feature of the new shirt is a chequerboard jacquard, which draws inspiration from the LFC fans in one of the most iconic stands in world football – The Kop. The flags and scarves fans hold aloft on match day create a visually captivating red and white mosaic, which is hinted at through the shirt. The design is linked to New Balance's new LFC campaign, #HoldNothingBack, a reflection on the team and fans' attitude towards the club."
It's a shirt.
Yes, it's a Liverpool shirt, but it's essentially just bits of fabric until the players start to wear it, start to win in it, start to bring us great memories that those shirts get intertwined with. It wouldn't be a surprise to see it worn at Wembley in the FA Cup final, with a bit of extra embroidery in the middle – but the Reds need to beat Villa in the semis first of course.
The marketing people continue:
"The kit has a sleek and sophisticated style, and celebrates some of the classic moments of LFC's history. It is reminiscent of shirts that club legends like Kenny Dalglish wore as part of the dominant side in the 1980s. The simplicity of the design honours the clubs illustrious heritage."
This is a little bit annoying really. Only a little bit, but what do New Balance know about LFC's "dominant side in the 1980s" other than what they've read about it? And if the club are directing them to try and play on the nostalgia instinct we all have as fans I'd rather them direct the transfer committee, the manager and players into helping us relive all those past glories by giving us some new ones. And by directing I also mean funding.
The current Liverpool side is a far cry from the one that dominated England and Europe in the eighties – blame whoever you like for that, or disagree completely if you prefer – and it feels as though the club has been a little too focussed upstairs on trying to get corporate deals done instead of sorting out player deals.
But enough complaining, at least the rules in English football prevent clubs from plastering too many logos on shirts, so just as it was when Kenny was playing we just have the maker's logo and the shirt sponsor's logo to contend with, and no sign of moisturiser, doughnuts or floorboards.
According to New Balance, "the shirt is engineered to offer the players the latest in performance innovation, kit technology and garment optimisation," and according to the press release, Jordan Henderson is made up with that.
"The kit feels great," Jordan is quoted as saying, "and I'm pleased the New Balance team considered what the players need from a kit when it was designed. The material is very comfortable and the players are delighted with the result."
You can imagine the scene now, in NB HQ. "Hey guys, tell me to shut up if I'm speaking out of turn, but is it worth us considering what the players need from these new kits too?"
General Manager of New Balance Football Richard Wright talks of new eras and sacred bonds with, presumably, a straight face: "As we enter into a new era between New Balance and Liverpool Football Club, we want to celebrate the sacred bond between the club, the fans and the players."
You can't help think (well, I can't) that it's getting less and less sacred every time a corporate statement of some kind tries to celebrate it.
Billy Hogan, LFC's Chief Commercial Officer, adds a bit more: "Like LFC, New Balance has over 100 years of heritage and it's fitting that the first kit launched as part of this record-breaking partnership celebrates the Club's illustrious history and worldwide fan base."
That stuff Henderson is pleased with includes "NB Dry", a "technology that helps keep the body cool and dry whilst being active. The moisture wicking fabric releases moisture away from the body, making it fast drying, and it is anatomically fitted to form around the player's body shape for ease of movement."
It's also "finished with mesh panelling under the arms," and "the design aims to help airflow around the body.
"Twin needle stitching runs around the circumference of the shirts hem and twin heat transfer tipping to the cuff gives a seam-free finish and to prevent abrasion. The unmistakable Liverpool red with the front panel jacquard is finished with an integrated collar."
If you want one – and most people who buy Liverpool shirts would buy them no matter how bad they looked, it's available to buy from 14th May.
Fingers crossed there'll be a good few on show down Wembley Way later that month.