STEVEN GERRARD led his Liverpool team mates on their annual trip to Alder Hey Children's Hospital yesterday.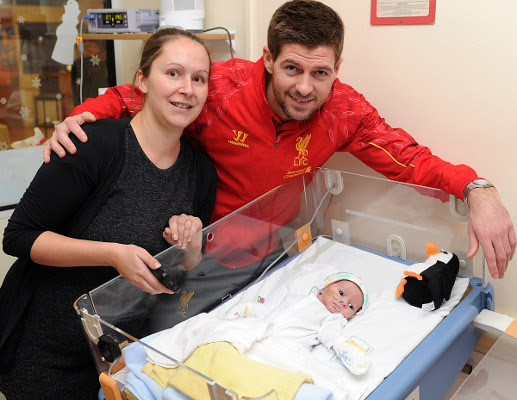 The players were split into five groups in an attempt to ensure as many children as possible got to meet the players.
In the end they visited 20 wards and each patient got a Liverpool FC goodie bag filled with LFC merchandise – maybe not that popular a gift for the young Blues on the wards!
Gerrard, recently named as a founding partner of the hospital's children's charity after a £500k donation from his testimonial, said of the visit: "It's been the same as most years, very emotional, but it's fantastic to be here.
"It's not just about putting smiles on the children's faces but helping the parents too, because they are having a bad time. It's a difficult time of the year for them coming towards Christmas."
Luis Suarez, currently the league's top scorer on 15 goals, said: "We know it is a difficult time, not only for the children but for their families. Maybe they can smile when we come in here and they can take a present and take a photo. Hopefully it's a good moment."
Suarez, who has two children of his own including a recent addition to the family, went on: "When you have children, it's different. And when you come in here and you see the children who have problems and are sick, it is difficult for the heart. I try my best on the football pitch, but also off the pitch, I try my best to help the children and their families."
Brendan Rodgers was also at the hospital, saying afterwards: "It's always a very humbling experience for me coming to the hospital and seeing the people here. If we can give them some sort of joy while we're here, that's the purpose.
"It's mixed emotions when you come and see the kids, it gives you a sense of perspective, it's the real word, it's reality – and it makes you realise how lucky you are.
"You look at your own children and those closest to you and it gives you that perspective when you see some of the kids in here who have been here since birth. The idea is to come here and give them some joy and a little bit of hope and encouragement really, because it's never easy."
More pictures below in our gallery: