Football Aid 2012 – Play at Anfield!
WITH the transfer window closing last week it looked like football squads all over the UK had been finalised for the rest of the season…..however with the first set of Bidding positions closing at www.footballaid.com tomorrow there's still the chance to book your place in the Liverpool starting 11 for 2012!
Football Aid promises you a unique opportunity to Live the Dream of an authentic match day experience; gaining exclusive access to the pitch and tunnel areas, pulling on your own personalised shirt in the official changing rooms, walking down the tunnel to the sound of a cheering crowd and ultimately to step out onto the hallowed turf and represent Liverpool in a never to be forgotten football match. And it's all for charity as well!
Getting involved couldn't be easier, just visit www.footballaid.com, select Liverpool and position, then place your bid – it really is that simple. Bidding's available throughout the month of February with the last available positions closing on Wed 7th March and there promises to be some hugely exciting auction action in the weeks to come.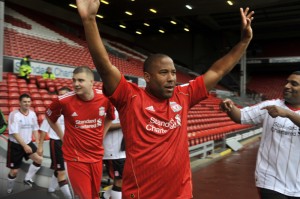 Week 1 should appeal to any Midfield Maestros out there, with the 45 min No 6 (CM), 90 min No 7 (RM) and 45 min No 8 (LM) closing on consecutive days between Tue 7th and Thu 9th February.
Week 2 features the always popular 90 min No 9 (CF), No 10 (CM) and No 11 (CF) positions closing Tue 14th, Wed 15th and Thu 16th.
Week 3 gives an opportunity for any defensive stalwarts to claim their place at the back with the 45 min No 2 (RB), 90 min No 4 (CH) and 45 min No 5 (CH) closing Tue 21st, Wed 22nd and Thu 23rd.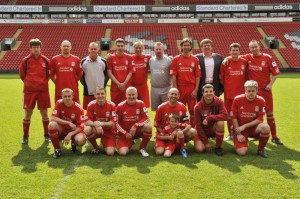 Week 4 gives a chance for any super subs to claim their place with the No 14 (CM), No 15 (CH), No 16 (RB) and No 17 (LM) closing between Mon 27th Feb and Thu 1st March.
All that's left is the last line of the defence, the 90 min No 1 GK position which closes on Fri 2nd. Finally, Wed 7th March sees any remaining positions made available in our always frenetic final day of bidding.
Home Team positions close at 15:00 pm with the Away Team closing at 16:00 pm. If you're concerned about losing out in injury time, or won't be available to monitor your bid for any reason, make sure and use the automated Maximum Bid option and remember you can close an auction early by using the Buy Now option on selected positions.
So don't get left on the bench, visit www.footballaid.com now and make your bid to secure a place on your Field of Dreams!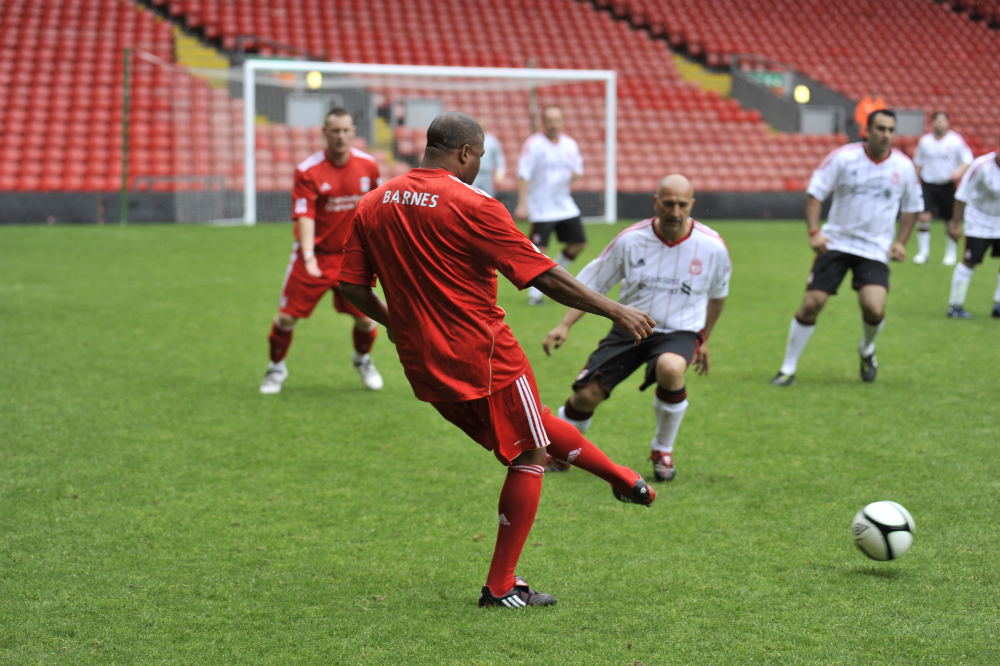 Football Aid celebrated their 11th anniversary in 2011 and have allowed over 12,225 football fans the chance to 'Live the Dream' in more than 460 matches. They are a groundbreaking organisation which generates funds annually by hosting charity football matches at iconic stadiums all over the UK. The unique concept was the brainchild of businessman and Football Aid Chairman Craig Paterson and funds raised from the event will benefit the work of a charitable project nominated by the club, as well as projects nominated by Football Aid's parent charity Field of Dreams.