Preview: Liverpool FC v Swansea City – and where to watch
LIVERPOOL play host to a newly-promoted side for the second time this season as they welcome Swansea City to Anfield. Despite having met each other on a relatively low number of occasions there is a certain bond between Liverpool and Swansea.
History
In 1981 the world of football mourned the loss of Liverpool's beloved Bill Shankly. The Red's legendary Welsh giant John Toshack was a Swansea player by then and in one of those moments where the game writes its own stories better than the most talented scriptwriter ever could the first match at Anfield after Shanks' passing saw the Welsh side play their first game at Anfield in ten years. As the players of both sides stood solemnly around the centre circle for the minute's silence Tosh stripped off his Swansea tracksuit to reveal the Red of his Liverpool number 10 shirt in respect to the legend that had made him into one too.
In more recent times there was sadness in South Wales and Merseyside at the loss of Austrian striker Besian Idrizaj who died of a suspected heart attack on 15 May last year. Besian was a Liverpool player for three years and although he never became a regular part of the first team squad, spending a certain amount of time out on loan, he was well remembered for a hat-trick at Wrexham on his first team debut in a pre-season friendly. Also making his debut for the Reds that day was Craig Bellamy, embarking on his first spell at the club.
After a successful trial with The Swans in the summer of 2009 Besian was offered a contract which he gladly accepted. He made three first team appearances in that first season, a season that saw Swansea just miss out on the playoffs, but sadly died two weeks after the end of the season. A year later Swansea made it to the play-offs and won in the final against Reading, securing their promotion to the top-flight. In a touching tribute to Besian the whole Swansea team wore t-shirts with his name and photo on them as they went up to receive the trophy and their medals.
Down the years.
On the field Swansea haven't enjoyed their visits to play Liverpool down the years. They've played 15 times at Anfield, either as Swansea Town or as Swansea City (they changed their name in 1969) and have won just once.
That win was in 1964 when Peter Thompson's goal wasn't enough to stop Swansea knocking the Bill Shankly's Reds out of the FA Cup 2-1 in the 6th round. 52,608 packed into a very different Anfield and not only saw Liverpool go out but also saw the number 3, Ronnie Moran, sent off. Liverpool would win the trophy the following year courtesy of a 2-1 win over Leeds at Wembley.
Swansea's most recent visit to the ground was back in 1990, also in the FA Cup. Liverpool were the holders and an upset had been on the cards after the Reds were held to a goalless draw at Vetch Field. After the Anfield replay the upset was all Swansea's as they got hammered 8-0. Ian Rush got a hat-trick, John Barnes got a brace and Beardsley, Whelan and Nicol rounded off the rout for Kenny Dalglish's side. That result remains Swansea's record defeat.
As far as the league is concerned, The Swans' last trip to Anfield was all the way back in April 1983 when Bob Paisley was still manager and Kenny Dalglish was still the number 7. Bob's men sent them back to Wales on the wrong end of a 3-0 scoreline, goals coming courtesy of Rush, Sammy Lee and substitute David Fairclough.
Back to the present
Mention of names from Liverpool's history like Rush, Beardsley, Peter Thompson and Fairclough brings back memories of players who rarely failed to take their chances in front of goal in teams that had no problems in creating chances for them. Today's Liverpool side are good at creating chances but haven't been quite as prolific at converting them so far. The stats make it easy for the lazy observer, with an axe to grind, to put words like 'misfiring' in front of the names of today's front men but in reality they'd be more accurate if they pulled out some of the clichés about woodwork and its ability to deny clubs goals. So far this season Liverpool have hit those posts and bars more than any other Premier League side, ten so far.
Liverpool's form is good; unbeaten in their last seven games and for all the missed chances they've still scored 15 times in that run. At the other end there have been some concerns with clean sheets hard to find. In those seven games Liverpool have conceded six goals and in two of the league games have dropped four points after conceding equalisers at home.
Another interesting stat that will probably have too much read into it at some point is a more positive one. Luis Suárez and Andy Carroll have started four of the Reds last six games together and in each of those four games Liverpool won. The two they didn't both start in were the two that Liverpool drew, against Manchester United and Norwich City.
That draw against Norwich added to a stat that the Reds are conscious they need to improve on, one that shows they have only three of the last 10 home games they've had against newly-promoted sides.
The reasons for that stat vary but complacency on the part of the home side and cup-final style motivation for the visitors play a big part in it. Swansea have all that in their favour today but they've got more than that to offer and Liverpool daren't let complacency come to the fore. Swansea couldn't even score in their first four ever Premier League games but the stage fright seems to have gone now, at least at their own place where they've won the last three and remain unbeaten.
Away from home Swansea don't look too good, at least when looking at the league table. They've managed just one point from a possible 15, but three of their five away games have been against Manchester City, Arsenal and Chelsea and as another cliché goes, they're due an away win.
Team News
Liverpool will be without their captain following Steven Gerrard's troubles with an ankle infection. That infection has been treated but he'll not be considered again for The Reds until after the dreaded international break. Who wears the armband today remains to be seen, Kenny Dalglish keeps his team selection quiet as long as possible and isn't saying too much about vice-captain Jamie Carragher's fitness.
Carragher missed the West Brom game due to injury but the performance put in by Skrtel and Agger in his absence, not to mention the clean sheet, has left some observers wondering if there's any merit in keeping the back four unchanged. If it is then Pepe Reina is most likely to get that armband, as he did last weekend, but the one observer who matters is Dalglish and it's him who will make the decisions.
Lucas Leiva and Charlie Adam are both expected to start and with Carroll and Suárez impressing together of late the only other questions about the starting line up are which two of Bellamy, Downing and Henderson should start, Downing perhaps most likely to be voted onto the bench if the side was picked by poll.
Swansea have Dutch midfielder Kemy Agustien available again after six weeks out with hamstring troubles but won't be able to call on Stephen Dobbie who isn't expected to return from his ankle injury until after that international break.
Just as there was when Toshack played for Swansea in that game at Anfield there'll be a minute's silence before the game today. This is Liverpool's nearest home game to Remembrance Sunday and the players will wear special shirts with poppies embroidered onto the front to mark the commemorations.
Some Liverpool supporters still refer to Swansea supporters being disrespectful during Bill Shankly's silence back in 1983, but Swansea 2011 not only have Toshack's example to look back on they have already made efforts to show their support for the campaigns for Hillsborough, with talk of a match between fans and celebrities being organised by Swansea supporters for the return game later in the season.
Stats:
Liverpool
Disciplinary record:  Yellows 16 Reds 2
Top scorer: Suárez 4
Injuries: Gerrard, (ankle)
Doubtful: Carragher
Suspended: None
Swansea
Disciplinary record: Yellows 14 Reds 0
Top scorer: Graham 4
Injured: Dobbie (ankle, return around 19 Nov), Caulker (knee, 19 Nov), (Tate, leg, December) Doubtful: None
Suspended: None
Referee:
Today's referee is Phil Dowd, who refereed the 1-1 draw with Sunderland at Anfield earlier in the season, a game in which he dished out 8 yellows. Carragher, Henderson, Adam and Kuyt got Liverpool's share. Dowd also officiated Swansea's goalless home draw with Wigan, dishing out three yellows, all of which went to Wigan players.
Record for this season: 7 games, 33 yellows, 1 red.
Quotes:
Liverpool boss Kenny Dalglish: "It's a game that we're going to have to be very patient in. They pass the ball well, they move it well, they might have spells of possession in the game which we've got to accept. We've rued the games against some promoted teams over the last few years.
"The supporters have to understand that sometimes there is a bit of disrespect for teams who have been promoted. Swansea are one of the promoted teams but they're a decent side and they've got a good collection of points."
(On Swansea's away 'struggles') "I wouldn't say struggled is the right word. I'd just say they've had a difficult draw of games. They certainly never struggled in the first 20 to 25 minutes at Eastlands."
"We've got the upmost respect for them and their principles are similar to ours. I don't know Brendan Rodgers (Swansea boss) as a person, I only know what he's done in football, but he's certainly set up a decent team there."
(On Swansea continuing where they left off last season) "I don't think it does you any good to change your principles, you have to change the whole team if you change your principles. That was the way they got their reward last year in promotion – why should they change? Good luck to them.
"It's a great achievement what they've done so far but let's hope their bad run away from home continues."
(On Liverpool's chances and taking them) "I think we've created more chances than anyone else in the Premier League, hitting the post or the crossbar doesn't even count as a shot on target – so if you add those to the other chances we've created, it's been a fantastic effort from the players."
(On the futures of Gerrard, who has opened negotiations on a new contract but misses out today, and Carragher, who's doubtful) "They still have some legs in them yet. We haven't reached that part yet. They both have a big part to play here and they will both play a big part. They have both played massive roles and will continue to be a huge part. Talismanic figures like them are always difficult to replace but that's part and parcel of this club.
"We'd much rather have both of them available but if they aren't we have to brush ourselves down and get on with it. But it's not an obituary for either of them – they both have a good bit more to offer here."
Kenny also spoke about Luis Suárez. Liverpool's new number 7 is now the player that the hacks who love Hodgson have firmly in their smear-gun sights. Those hacks, on the whole, are too busy unloading their little balls of smear paint to realise how ludicrous many of the claims they report unchallenged actually are.
One of the latest was from West Brom's Paul Scharner who must have been watching a different game to the one he played in given that he accused Suárez of taking "a nice dive" for a penalty that he hadn't even claimed for, let alone dived for, after he was fouled by Jerome Thomas last weekend. His manager, our old 'friend' Roy Hodgson, had come out with equally nonsensical comments about the penalty after the game and had also been able to do so without any of the back pages putting his words alongside quirky photos and under headlines containing words like 'cracking' and 'up'.
Anyway, back to Kenny, who is happy in the knowledge that the mini smear campaign is going on for reasons that suggest his player is actually doing everything right for his club… "They can keep talking and the wee man will keep playing, running amok, going past people, creating chances, scoring a few goals. He has nothing to prove to anybody about his credibility. I don't know how anyone can accuse him of diving there (against West Brom). You can tell there was some contact.
"If that was outside the box it was a free-kick, but he was back up on his feet. I don't know what the problem was. He got injured at Stoke trying to stay on his feet. Why stand there and be kicked?"
(And on Scharner) "Oh well, he's a good player. That's him who come off injured?"
Swansea boss Brendan Rodgers: "Home form is vital, the players have big confidence at home and collectively we understand if we can do our job at home then we can control our destiny. We'll get better away from home as we grow into the season. It is fantastic for the supporters to go to a club with great history in world football but we're going to do our very, very best as the club has earned the right to play at these great clubs."
(On the fact his side have Liverpool and Manchester United either side of the aforementioned international break) "They will be two of the toughest games we'll play this season but we are confident that we can go into those two games and still get something from them."
(On Gerrard's absence) "He's a world class player, if he's not playing then of course it makes a difference – but they have other outstanding players.
"Andy Carroll has done well since going there and Luis Suárez's movement and quality is clear to see. Charlie Adam has also stepped in and done well, so it is going to be a real good test for us, but we're improving all the time and our last away performance was excellent.
Swansea player Danny Graham: "To be unbeaten in the Premier League at home after five games is incredible, for a team that's just come up, I don't think that happens very often, but we need points on the road and that's what we'll be aiming to do at Liverpool.
"We're starting to believe we deserve a place in the Premier League now, it takes a few games to get used to it and it was a sort of a reality check but we're playing good teams and playing very good football against them and that'll give us great confidence going into the Liverpool game.
"We'll go there, give our best and try to pick up points."
Liverpool's Cardiff-born forward Craig Bellamy: "The only doubters [that Swansea could do well in the top flight] would probably be from people outside of Wales, not knowing what Swansea's about as a football club.
"They're out the way and they don't get the coverage – nowhere near what other clubs get, that's clear – but anyone who's followed Swansea and followed their progression would know the Premiership will suit them. The Premiership will suit them probably more than the Championship would because of the way they play, the way they go about their football, the players they have. For me, with the players they have and they way they play, they'll stay up. I honestly believe that."
"A lot of people are starting to take notice of what they're doing… now one or two people in the Premiership and elsewhere are starting to realise they're a good football team, the Premiership will be a better place with Swansea in it."
(On how his praise of Swansea maybe conflicts with where he's from and if he'd rather see Cardiff in Swansea's place) "I know I'm Cardiff, of course I would, but at the same time I'm Welsh and following Swansea and watching how Swansea go about it makes me proud as well."
(On facing Welsh players he considers as friends) "It does make a difference because I like certain players and I don't like what I have to go through in a game then, because I like to be angry and I like to be annoyed at individuals! If I class you as a friend I find it very difficult then to step across that line but I have to, because it is my game and I have to go about my business that way."
(On Liverpool's targets for the season) "We're looking Champions League [qualification] really, so that's the aim, to try and finish in the top four, which is realistic. It's going to be between ourselves, Tottenham and Arsenal [assuming the other three places will be taken by Manchester's United and City and Chelsea] and that's no disrespect to Newcastle because they're already in it, there'll be one team like a Newcastle who will be there or thereabouts with us, but I feel towards the end it'll be between the three of us."
(On how getting the points against sides big or small is what will determine the top four) "Whoever can stay solid through the season and pick up the points, like we just did against West Brom away, if we can get one or two more results like that on the road as well than that gives us a good chance."

Where to watch
Venue: Anfield
Date: Saturday, 5 November 2011
Kick-off: 3:00pm GMT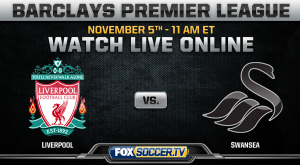 TV Coverage:
UK: Highlights only (Match of the Day, BBC1 and Football First, Sky Sports).
US: FoxSoccer.TV (Sub required, sign up here. Users outside the USA may need a US IP address, see USAProxyServer for details).
Radio Coverage:
UK: BBC Radio 5 live, BBC Radio Merseyside, Radio City 96.7, City Talk 105.9 and Radio City online. (Users outside the UK may need a UK IP address, see UKProxyServer for details).