Pepe: We were all put in a bad situation
Pepe Reina's autobiography is out today and depending on how candid he's chosen to be we'll maybe find out a lot more about the player than we deserve to. When we read it, rather than just take in soundbites hand-picked by newspaper columnists unconnected to the book and looking for something juicy for a headline, we'll have a better insight into a man we rely on far more than some would like to give him credit for.
In the meantime the juicy extracts are there to be ripped apart, taken out of context and twisted.
There will be disappointment in some quarters because his version of the dark days of Hicks and Gillett might not quite match their expectations of how it all worked out. Pepe will confirm various facts that up until now were dismissed as hearsay. Likewise his words will dismiss some of the rumours that blew out of all proportion as the club fought itself almost as hard as it fought the parasites from the world of leveraged buyouts.
Those days are gone, hopefully for good; FSG have already been in control longer than Hicks and Gillett were before doubts began to really set in.

The upside of the battle to rid Liverpool of the parasites was – for many of us – the way it brought us into contact with people we might otherwise never have met. We've maybe lost one or two friends in the four years since Hicks and Gillett's cover was blown, we've maybe seen some people in a worse light than we did before. But we've made far more new friends in that time and seen qualities in people that maybe in the past we'd never have spotted, or never appreciated.
Perhaps best of all is that the bad guys no longer really matter.
The types who would claim their top priority was LFC when that was far from being the case still wait for their adulation and no doubt still get it from their little fan clubs in their own little worlds, worlds that exist in a different reality to the one the rest of us walk round on. Their worlds are black and white, people were either good or bad for the club and there is no other distinction. An owner who put the club on the verge of bankruptcy is as bad as a manager who was in charge when their favourite player was sold. A man who helped to divide the club more than the people he was sent in to oversee is their poster boy, succeeding that man from Croydon who had been their saviour and idol before that.
Of course these 'bad guys' are insignificant because they aren't really the bad guys. The real bad guys are Tom and George and they're insignificant too – now. But for over three years they weren't insignificant, they were the only real threat to the club and a problem that we struggled to solve. At times we were distracted from the problem. Time and time again we were arguing about issues that weren't 'Hicks and Gillett', or related to 'Hicks and Gillett'. We shouldn't have been but we were and whether that helped the problem stay around longer than it would have done is open to debate.
As those months went by, and when we weren't allowing ourselves to be distracted, we all had our own opinions on what should be done to solve the problem. On that score the main differences of opinion, or perhaps the ones most commonly aired, were on how much the efforts to destroy the parasites should interfere with the football. Some said protest in the ground, some said don't. Some said chant during the match, some said don't. Some felt players should be speaking out, some said they shouldn't get involved.
And it's that point that has been the first one raised by the few quotes that have come out from Pepe's book. Pepe wanted to speak out publicly, Jamie Carragher and Steven Gerrard didn't and Pepe discusses this in the book.
The person given the task of taking the quotes out of the book and making a juicy piece about it in the Sunday papers got hold of that bit and made it sound different to how it sounds in the book. Within hours Pepe's words hadn't only been taken out of context they'd been given a life of their own.
The Mail on Sunday's treatment went like this:
Reina publicly called for Hicks and Gillett to go long before current owner John W Henry took over last October. The 29-year-old also admits he would have liked Gerrard and Carragher to have taken a similar stand.

"I was probably one of the loudest objectors because I believed it was important the supporters knew I was with them," he says.

"All I wanted the owners to do was sell up to people who could take the club forward, so I said so.

"The way I saw it, Stevie and Carra are the two principle members of our squad, the ones who the people love and if they had said something maybe it would have put Hicks and Gillett under real pressure.

"But in their view, it was more important to try to keep things as normal as possible."
And there it ends. At least there the article ends, open-ended, leaving the reader to wonder whether the difference of opinion was anything more than that (or to just flick the page and do the crossword).
Back in that alternate reality they hadn't quite read down that far and were outraged that Pepe had asked questions about Christian Purslow, "making big football decisions he wasn't qualified to make." They reacted the only way they can when their poster boy is criticised and had a go at Rafa Benítez. What happened after that is probably what always happens after that as they went through their hit list of 'enemies of the club'.
Elsewhere it was discussed for what it was, a simple difference of opinion about what needed to be done to rid the club of the parasites. The same kind of difference of opinion that friends, families and workmates might have had about what to do. We all had our opinions, we all worked out whose opinions we could respect if not agree with. The idea that the whole of the Anfield dressing room would agree on the best way of getting the right medicine for the ailing club is one born from fantasy. The idea that a difference of opinion always means war is one born of the bitterest of minds. The kind of minds that the parasites enjoyed toying with, the kind of minds that see everything in extremes of good and bad.
Pepe wasn't at war with Carragher and Gerrard and the reason his book refers to the difference of opinion is perhaps that when he was being interviewed for it Brian Reade's 'Epic Swindle' book was fresh in the bookshops. Carragher had already spoken about his opinion not matching Pepe's, as Pepe explains in the book, where the quotes can be seen in context:
"I know Carra has admitted that I asked him why neither he nor Stevie spoke out at the time. I understand their reasons, that they felt that they had to be professional and not get dragged into a war, and I respect them. We might have disagreed on this subject but that did not mean we fell out with each other or anything like that. The club had enough problems without the senior players having problems with one another because of a difference of opinion. The way I saw it, Stevie and Carra are the two principle members of our squad, the ones who the people love and maybe if they had said something it would have put Hicks and Gillett under real pressure. But in their view, it was more important to try to keep things as normal as possible rather than risk rocking the boat even more. What was not in doubt was that we all just wanted the best for the club.

"This was an extraordinary time and it should never come down to the supporters to decide whether or not they should protest, or to the senior players to decide if it is right to speak out against the owners. It just shouldn't happen. We were all being put in a bad position by Hicks and Gillett. Whatever choices we made at the time should be judged against the backdrop of how bad the situation had become, not against us as individuals. My respect for Stevie and Carra did not change one bit, even though we saw things differently. We all did what we thought was right, that is all anyone can ever do."
If only more of that had been printed, perhaps there wouldn't have been such a race to find trouble that isn't there.
Pepe was looking for solutions to the problem of Hicks and Gillett and in his mind Carra and Gerrard were capable more than anyone of putting the owners under pressure. A lot of supporters felt the same during the difficult months and years Liverpool went through and even now it's difficult to think of a good reason for the duo keeping so quiet about the situation, particularly the normally outspoken and forthright vice-captain. But whatever the reasons, it was their right to act as they did.
Opinions of the vice captain are beginning to polarise the support more than ever which is sad considering the club is now at peace again. Kenny will replace Carra when Kenny is ready and there should be no need to fear that politics will interfere with that decision. These owners employ football people to make football decisions and it'll be the football people that decide what Carra's future might be at Liverpool, if any, beyond his playing days.
As for Pepe's feelings about Carra, he seems to be quite content. Before he talks about Purslow, Hicks or Gillett he talks about his matchday rituals, the elaborate details of his pre-match preparations. He has to go to a certain filling station to top the fuel up in his car, even if the gauge says it's full. He reveals which parking spec he uses at Anfield before the coach arrives to take them to Melwood and what he eats (and drinks) the night before. He talks about where he sits on the coach, what order he takes his clothes off before changing into his kit and what he does in between taking his clothes off and putting his kit on. Most footballers have pre-match rituals and superstitions so the run down is interesting and humourous but not unexpected, especially from a goalkeeper who doesn't want the number 1 shirt. It continues on past the pre-match music, the touching of the "This is Anfield" sign and which order his feet cross the touchline in until he gets to what he does once he's on the pitch, the part of his routine the fans can see from the stands.
In all of this, and it's a long list, he mentions Carra twice. First, in the dressing room:
"I always sit in the same place, just next to the wall as you walk in, right next to Carra."
And then on the pitch:
Then I head towards my goal but before I get there I have to touch fists with my back four – except Carra, who doesn't like doing that so we share a high-five instead.
Pepe also talks in the book about how he nearly left Liverpool – on three occasions – and how low he felt as Roy Hodgson's reign was coming to its end.
The first time was before Hicks and Gillett darkened the Anfield doors and was down to worries about his form. He was reassured by former manager Rafa Benitez and then goalkeeping coach Jose Ochotorena and that was the end of that, until 2010.
He signed his new six-year deal in April 2010 and spoke out about Hicks and Gillett at the end of May, just before Rafa left the club. In June and July he was helping Spain to their World Cup triumph but the joy of that was soon replaced by the depression of what was happening at Liverpool. Arsenal made a bid of £20m and although it was turned down by Liverpool Pepe felt it wasn't turned down for the right reasons. It wasn't because he was seen as too good a keeper for the club to lose, or because he was seen as a vital senior member of the squad – it was because his presence in the club was "crucial to the sale of the club". It was Christian Purslow who told him this, a man Pepe says (perhaps a little too kindly), "probably wasn't the right person to run a football club."
After the summer and the rejected Arsenal bid Pepe asked for a clause to be added to his contract allowing him to leave should a £20m bid be received. By the time the year was out he was "really tired of all the lies, of all the broken promises." He wasn't happy with Hodgson's style of football either ("because it didn't suit me") and it was "getting harder and harder to find reasons to stay".
Supporters looking back to the turn of the New Year will remember feeling similar levels of despair with Hodgson digging his heels in and in no mood to fall on his sword. Thankfully the new owners had seen it too and he was paid off, paving the way for by far the popular choice of the previous summer to cut a holiday short and put his manager's coat back on again. Had Kenny not returned, and had Pepe's wife not been so persuasive, there is every chance that Fernando Torres wouldn't have been the only Spaniard to depart in that January transfer window.
But that's a reference to times that have now long gone. Times that we shouldn't ever have gone through and times that should make us stronger. And he's not going anywhere now, as he says: "My family always has to come first, but Liverpool is my club and my family are happy here. Now I would not think about leaving."
During the dark days of the parasitical era the phrase 'The Liverpool Way' was misused and abused and even now is used in ways that have made it become almost meaningless. In time we'll get the phrase back and we'll ensure it's used properly. In the meantime we maybe need to look at alternative ways of talking about the standards we expect from the club and everyone connected to it.
Maybe, for now, we can talk about 'Kenny's Way'. Kenny won't stand for any public sign of disharmony and has ways of defusing situations that few people in any walk of life have. He puts the club first and certainly won't let sentiment or personal gain get in the way. He's brought the club together and wouldn't approve of some of the bitter resentment still on show from time to time. And Pepe, the man who loves his club and the city he now calls home, is a fan of'Kenny's Way':
"That is the way he does things and seeing as he has won four league titles as a manager and is Liverpool's greatest ever legend, his way is good enough for me."
If it's good enough for Pepe, it should be good enough for us all.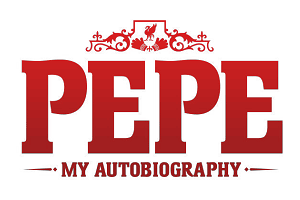 'Pepe – My Autobiography' is out now – order it from from Amazon, from Waterstones or download it for Kindle.